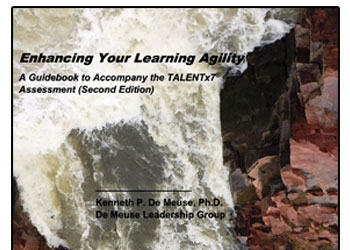 The best leaders realize they always can get better. Further, research indicates that the most successful organizations continually develop and grow their leadership talent. As a self-assessment, the TALENTx7 avoids the business interruption and rater fatigue that often occur with multirater instruments. The TALENTx7 is especially useful for casting a wide net to measure learning agility in emerging leadership talent and develop bench strength.
The TALENTx7 Report presents an individual's overall learning agility score as well as scores on each of the seven facets of learning agility. Specific "effective leader behaviors" and "potential derailers" the employee tends to exhibit are identified.
The accompanying TALENTx7 Developmental Guidebook presents instruction for developing one's learning agility. Concrete examples of effective leader behaviors as well as developmental recommendations are provided for each of the different facets of learning agility. The Guidebook is a resource coaches can provide individuals after the feedback session. It is particularly useful following group feedback sessions.
The Guidebook also:
Highlights examples of overuse behaviors for each of the seven facets of learning agility
Identifies potential underlying causes for these behaviors
Recommends various methods the individual can perform to moderate or eliminate the behavior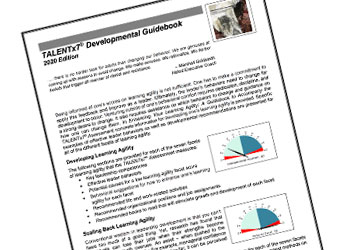 In addition, for those talent management professionals who desire to employ a 360-degree feedback process for leadership development, we can do it as well. Whether it is at the supervisory, managerial, or executive level, the opportunity to obtain honest feedback in a nonthreatening setting can be a life-changing experience. The ability to contrast how individuals perceive themselves, relative to how others view them, provides a heightened self-awareness into their strengths and weaknesses as a leader. The data are strictly confidential. The focus is solely on development.