TALENTx7 Assessment
The Ultimate Learning Agility Assessment
In addition to assessing an individual's overall learning agility, the TALENTx7 Assessment measures seven explicit facets of learning agility. Each facet is defined in terms of the extent to which individuals display the following behaviors:
1. Interpersonal Acumen
The extent to which individuals interact effectively with a diversity of people, understand others' unique motives, values, and goals as well as their strengths and limitations, instill confidence in them, and leverage them to perform successfully on their jobs.
2. Cognitive Perspective
The degree to which individuals think critically and strategically to solve complex problems, embrace difficult, multifaceted organizational issues, and approach situations from a broad high-level perspective. Individuals focus on multiple inputs rather than from only one or two functional/technical perspectives.
3. Environmental Mindfulness
The level to which individuals are fully observant of their external surroundings, attentive to the changing job duties and requirements in new organizational roles, approach environmental changes in a nonjudgmental manner, and regulate their emotions effectively.
4. Drive to Excel
The extent to which individuals are motivated by difficult assignments, set challenging personal and organizational goals, resourceful, and can be counted on to deliver results in new and untested situations.
5. Self Insight
The degree to which individuals accurately understand themselves, their capabilities, weaknesses, beliefs, values, feelings, and personal goals as it relates to the workplace.
6. Change Alacrity
The level to which individuals are curious and eager to learn new ideas and ways of behaving, open-minded to new situations, relish change, and continuously seek innovative (and at times risky) approaches to perform their jobs.
7. Feedback Responsiveness
The extent to which individuals solicit, listen to, and accept personal feedback from others, carefully consider its merits, and subsequently take corrective action for performance improvement.
Key Features and Benefits
Online, self-assessment – compatible with all mobile devices.

GDPR compliant.

The most comprehensive assessment of learning agility on the market, providing scores on seven different facets of learning agility.

High-level summary of the individual's overall learning agility profile, plus specific behavioral tendencies are highlighted for each facet.
Red zones identify potential derailers and overuse behaviors for each facet.
Easy to interpret dashboard scoring system.
Professionally developed and validated. Technical report available upon free of charge.
No adverse impact.
Specially designed psychometric scales evaluate usability of assessment results. Scores are adjusted for social desirability.
Three reports – Individual Feedback Report, Professional Coach's Report, and Organizational Report.
Assessment and Report Languages – English, Chinese (Simplified), German, Indonesian, Japanese, Portuguese, Spanish, French, and Turkish.
Time to complete assessment – 20-30 minutes.
Pricing:
1-49 Assessments: $250
50-99 Assessments: $225
100-249 Assessments: $200
Additional quantity discounts are available
Overall Learning Agility
Overall Learning Agility is the composite of these seven facets and provides information on an individual's leadership potential. This score provides useful input for a number of talent decisions, such as determining an internal candidate's suitability for promotion into management, identifying individuals to be placed into high potential leadership programs, or hiring external leaders into an organization. For development purposes, however, the scores on the seven unique facets provide diagnostic guidance on which leadership areas need enhancement.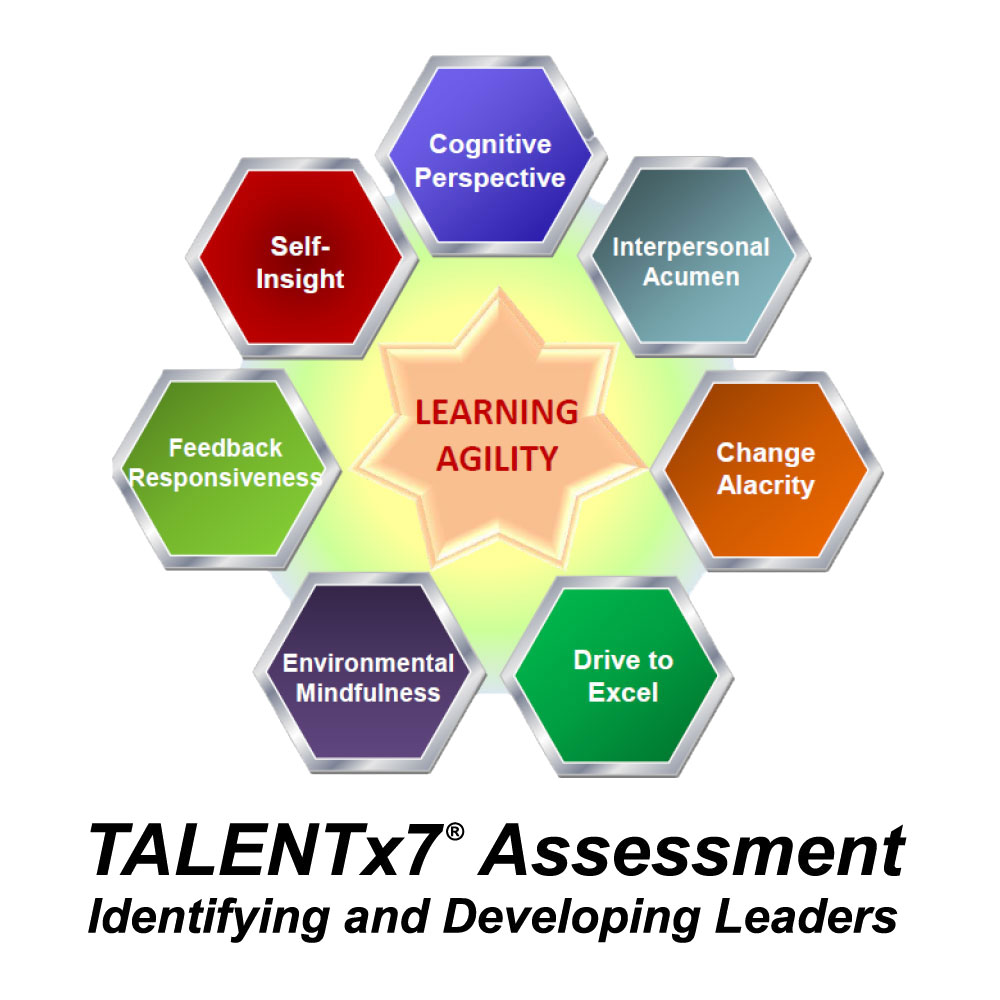 Ready for the TALENTx7 Assessment?
Purchase your TALENTx7 Assessment now!